Grace Harte

Grace and Leo Harte, both in their 40s run a crumbling hotel on the West Coast of Ireland. Grace feels she is stranded in a passionless marriage. She feels that by upgrading the hotel they might inject new life into their relationship. The hotel, Ostan Harte, has been a fixture on the landscape for many years. Leo sees no need to upgrade the hotel and seems consigned to the state they are in. Where Grace sees stasis, Leo sees stability. At the beginning of the series we see Grace, Leo, and Leo's elderly mother shutting down the hotel for the season as Winter approaches. It's a ritual that appears will go on forever. But we soon learn this is the last year they will ever do this as a series of catastrophic events are set in motion. The catalyst for these events is Danny, a young surfer, who sets up a surfing school on the beach adjacent to the hotel.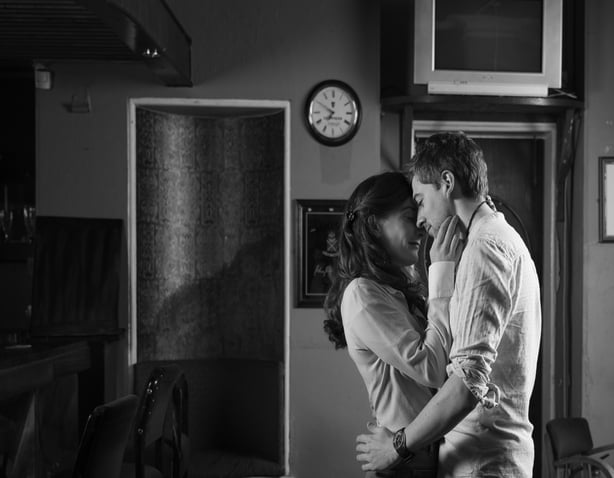 Beautifully shot, has a good script and excellent performances.
SUNDAY BUSINESS POST
One of the year's most confident domestic productions.
SUNDAY TIMES
An Crisis
Six part comedy-drama series for TG4

For the past ten years Setanta de Paor has been acting director of an obscure Irish language organisation called ACT (An Chomhairle Teanga). Setanta is a mild mannered man who has always believed in the path of least resistance. A conciliator par excellence who has got where he is by keeping his head down. But now, in the downturn, ACT has come under scrutiny and threat of closure. The appointment of a new minister who went to school with Setanta and always disliked him makes matters worse. Setanta and his team push the various projects they've been funding into the spotlight in an effort to justify their existence. The projects range from intense young filmmakers to passionate promoters of the Ulster Scots language and culture to very unorthodox GAA stars and volatile sean-nós singers.
An Crisis, a new six-parter from TG4, was laugh out loud funny – interspersed with a couple of knowing sniggers. Even having to read the English subtitles didn't get in the way and that's an achievement in itself – Irish Times
Crisis Eile
Six part comedy-drama series for TG4

Maeve Kelly Clarke is cut from blue-chip, Irish political stock. Her father, her hero, was a TD and she's on her way to represent Ireland in Brussels. Maeve inherited Daddy's political ambition, ruthlessness and cunning and she's going to need all of it when she lands in EU Headquarters. With an eccentric and increasingly luckless team surrounding her, Maeve's determination to prove herself to her European colleagues, as well as her Irish detractors, suffers repeated setbacks.
Crisis Eile is funny and hits its targets head on. – Irish Times
An Bonnan Bui
An Animated Short, based on the song 'An Bonnain Bui' by Cathal Bui Mac Giolla Ghunna. A lament to the Bonnain Bui (Yellow Bittern), a bird that has died of thirst. On a cold new year's eve, the singer compares his own situation to that of the bird.
Animators: Maria Murray, Edith Pieperhoff
Writer: Antoine O Flatharta
Producer: Padraig O'Neill
Production Company: Corrib Films
Running Time: 5 mins
Year: 1995
Stella Days
Film adaptation inspired by the memoir Stella Days: The Life and Times of a Rural Irish Cinema, written by Michael Doorley.
Made by NewGrange Films in 2011.
Sheen's performance is complex enough that the viewer, while sympathizing with him, also has to ask whether Barry himself is prideful, a bad priest, and/or merely a man whose mind won't let him settle for a life in a petrified intellectual forest. – Variety
"On the surface, Thaddeus O'Sullivan's film plays like a conservative drama, but it uses quiet, unforced ironies, both comic and serious. It tells of an unlikely liberal priest in 1950s Borrisokane who does battle with a bishop and politician to open a cinema. It asks us to revise how we think about our own history — what role did we ourselves play during the religious tyranny of the past? As the quietly rebellious Fr Daniel, Martin Sheen commands the gravity of a small planet". – Sunday Times 100 Greatest Irish Films

Grásta i Meiriceá
Produced by Deilt Productions for RTE in 1990
The short film is directed by Noel O Briain and features Cóilín Ó Scolaí and Diarmuid de Faoite as Seán and Finbar. The two young men are living and working illegally in New York. One weekend they decide to travel to Graceland to pay their respects to their hero Elvis Presley.
Short documentary piece about the making on the film available on RTE Archives
A piece by John L.Murphy on how this short film morphed into a longer play.